Why Use Cleaner Systems Ltd?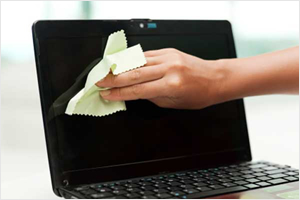 With Information Technology playing an increasingly important role in the day to day running of business, it is vital that the substantial investment made in new technology by many companies is protected to provide the best possible return. However, the vast majority of businesses overlook one vital part of the process of investing in Information Technology, and this is the role of general maintenance. Just like a car needs to be serviced annually and your teeth need cleaning every day, computers and other office equipment also need regular cleaning.
Computers can be seriously affected by the accumulation of dust and dirt, both internally and externally, which can lead to failure through problems such as overheating. Other equipment, if not maintained regularly, can also turn into a breeding ground for germs and bacteria that can impact on staff health and even breach Health & Safety Regulations. Ultimately, the neglect of computer hardware can result in significantly diminished performance, reduced productivity, lost data, and more often than not, considerable cost.
With this in mind, can your business afford to ignore these risks?
So what makes us different? Why choose Cleaner Systems Ltd?
We are Specialists in our Field - Cleaner Systems Ltd is a company that deals solely in the cleaning of IT and office equipment. This enables us to focus our expertise in this field to offer our clients an unrivalled service without compromising on quality. All employees have undergone both internal and external training programmes and only use approved products combined with tried and tested techniques. After all, you wouldn't call a dentist to fix your car!
Attention to Detail - We believe that cleaning a computer properly is a detailed process. Every single part of that process needs to be completed to the highest standard in order to achieve the maximum benefit. A quick wipe over, that a non-specialist cleaning company may offer, is a world apart from what is required to clean the equipment effectively.
Customer Care - Our company prides itself on giving first class customer service. From first contact right through to the completion of any work, our services can be tailored to suit individual client needs, allowing us to be responsive and provide the most appropriate cleaning programme every time.