About Our Company
Cleaner Systems Ltd was established in the summer or 2004 with a main aim of helping businesses protect their investment in Information Technology and to provide a cleaner, more hygienic environment for staff to work in. The company started initially offering specialist computer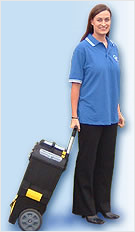 and telephone cleaning services and soon began to build a wide range of customers, both local and further afield. These customers were increasingly asking us to provide them with the cleaning products to use in between cleans, so we started offering the tried and tested products that we used for sale through our website. The range of products that we stock has grown over the years incorporating many new brands, including our own brand - CS Protect, as well as developing further our range of specialist vacuums.
Now, with over 10 years of experience in our field, Cleaner Systems Ltd offers the full range of IT cleaning products and services throughout the UK and has become a leading company in the industry. We supply many local computer cleaning operators with our products and we continue to look to expand our brand.
Company registration
Cleaner Systems Ltd is registered in England (No. 5163873) at 50 Richmond Road, Solihull, West Midlands, B92 7RP.
Our VAT registration number is GB 842 5958 95.