IT Cleaning Services
As a company, we have been providing our professional IT cleaning services to clients throughout the UK for over 10 years. During this time we have become one of the country's leading specialist IT cleaning companies.
Details on the specific core cleaning services we offer can be seen on the relevant pages in this section of the website, and in this section we will talk you through the more general aspects of using our services.
The core services that we offer our clients can be mixed and modified to suit individual requirements. If you have any special requirements that are not covered by our usual services we are more than happy to look at these and offer you the best solution. These core services are as follows:
---
The process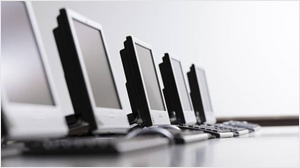 If, after finding out more about us and the services we offer, you feel that you and your company may benefit from having cleaner, more hygienic IT and office equipment, then this is the process that we will work through in order for it to happen.
Contact Us - Get in contact with us using the details on the contact us page, either by phone, email or filling in the contact form. We can then have a quick, informal chat to discuss your needs and answer any questions or concerns that you may have about using our services. Should you then wish, we can arrange a date and time at your convenience for us to come and meet with you face to face.
Meeting - If you require, one of our senior managers will come and visit you to have a more in depth discussion about your specific needs and requirements, and carry out a brief assessment of the equipment and environment. Every customer is different and we recognise this fact. We will then be able to offer our advice to you on the most suitable type and frequency of service based on the results of the discussion and assessment. However, the final decision is yours as to the type and frequency of service that you would like. We can then, if you wish, give a free demonstration of our services and prepare a quotation for your consideration.
Quote Acceptance - If everything is to your satisfaction and you are happy to go ahead, then all that is required is for you to sign and return the quotation form and arrange the dates and times for the work to be carried out. Work can be carried out either in or out of your normal office/working hours and also at weekends and bank holidays if that is more convenient. All of our out of hours work is carried out at no extra cost.
One-off or Contract?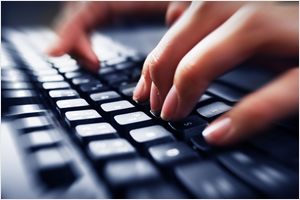 All of our services are available as a one-off clean, or as a regular cleaning schedule put together by ourselves specific to your exact needs and requirements. Many clients begin using our services on the basis of a one-off clean before moving to a regular programme, allowing them to experience the full range of benefits without having to commit to a regular clean with a new supplier straight away. We would go as far as saying that we encourage this type of arrangement, such is our confidence that after seeing the results and benefits of the services we provide, our customers will want to enter into a regular and more permanent agreement.
Price
We charge per unit for our cleaning services. The definition of a unit for each type of clean can be found on the relevant pages in this section. We do not charge a minimum fee for our smaller customers and we have no call out charges. There is a standard guide price per unit, but this can fluctuate depending on factors such as the number of units to be cleaned (volume discounts are available), the type of equipment being cleaned, and where abouts the equipment is located. As mentioned before, every customer is unique in their requirements.
Remember!
Cleaner Systems Ltd is a specialist IT cleaning company. We only use approved cleaning products and techniques, specifically designed for use with Information Technology, and all employees are fully trained IT cleaning technicians. This, along with our specialist insurance cover, means that you can rest assured, your equipment is in safe hands!
Please feel free to contact us at any time to discuss any questions or queries that you may have regarding our services, or to arrange a suitable time for us to come and visit you.
---
Articles in the media
There are many reasons for having your IT and office equipment cleaned and maintained regularly, and these are discussed in detail on this web-site. But don't just take our word for it, have a look at some of these articles that have been hitting the headlines to see for yourself.....
Keeping Your Keyboard Free of Germs - 2 August 2015, wfsb.com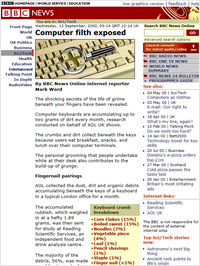 Keyboards 'Dirtier than a Toilet' - 1 May 2008, BBC News Online
Germs at the Office are often found on Keyboards and at Coffee Stations - 30 September 2014, The Wall Street Journal
Computer Filth Exposed - 13 September 2000, BBC News Online
Eat at Your Desk? You might not after this - 16 October 2014, Mail Online
Lifting the Lid on Computer Filth - 12 March 2004, BBC News Online
Computer Fungus Risk to Patients - 25 May 2001, BBC News Online
Hospitals Bugged by Dirty Mobile Phones - 13 July 2015, ABC Science
Cleaning the Unit Fan is Essential Computer Care - 10 June 2015, boosharticles.com